Music
PRESS REVIEWS, page 2
Speaks to the spirit and heart
Teddy Bear Records [record label for Lantern's original release] has as its aim an insight of the Swiss psychoanalyst Carl Jung: "What is essential in a work of art is that it should rise far above the realm of the personal life and speak from the spirit and the heart of the artist to the spirit and heart of mankind. In this way the work of the artist comes to meet the spiritual need of the society in which he lives." The work of Suzanne Grosvenor meets this standard.
Transnational Perspectives, Geneve, Switzerland
A master of original composition
[Grosvenor] is a master of original composition. 'Lantern in the Window' is a sparkling collection of piano wizardry. . . whimsical yet suggestive music. It induces a state of mind, an emotional response in the listener...a certain sparkle...a being alive feeling in the music. A gentle, tender certainty, an effect which tends to serenade the listener.
Lucy Day, Eugene Magazine
Very progressive....borderline modern classical music.   Complex rhythms and diverse chord changes.
Arizona Daily Wildcat
Allows us to create our own movies as we listen
Lantern in the Window is full of warm, reflective sounds that echo softly in the minds and hearts of its listeners. These songs, some somber and even sad, others joyful and lilting, allow us to create our own movies as we listen. The amazing journey of the thought or feeling that is transmuted from the mind and heart of the player through the hands to the keys, then through the vibrating strings to us is a most miraculous and wondering thing. All music, if sincerely felt and offered, can be a great medium of inspiration and even healing.
Bebop Jake, Connections, Pacific Northwest Magazine
Plainspoken. . . full of humor.
Stephen Davis, New Age Journal, USA
Pensive...Lighthearted...Offbeat...Haunting. Soothing music.
Cleve Twitchell, Mail Tribune, Medford, Oregon
Evocative
In the midst of what most would call a successful musical career, Suzanne came to understand a feeling she'd had since childhood...In trying to tap into that inner source of musical expression, she began engaging in meditation and 'spending hours just playing'. Her time paid off. "Lantern in the Window" is an evocative record.
Oregon Daily Emerald
A true composer. This music is going to hold up for a long time.
Radio Host, Doug Daniels
Nicely produced.
OP Independent Music Magazine, Washington
Beautiful. I love it!
Radio Host, Tom Newman
Creates a perfect mood. It's on our hotlist.
Roger Smith, KMHD Radio, Portland
Lyrical
The lyrical melodies and pristine sound quality of this recording will enhance any activity for piano music lovers. The composition and sound quality excel.
The Torch, Eugene, Oregon
*Mentions of the artist's name Susan Kennedy
changed here to Suzanne Grosvenor, her name since 1990.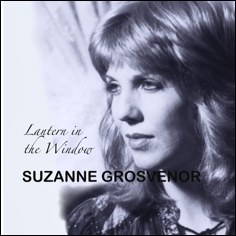 Lantern in the Window
Piano Reflections